The most valuable gift you can give to yourself and your family is a clean home. Unfortunately, most people are unaware of the importance of having a clean home. A deep cleaning helps in maintaining a clean home and will benefit your professional and social lives. As a result, you will build stronger relationships and gain more professional success.
Deep cleaning is not just about scrubbing. It involves a comprehensive plan of action. Start by identifying the major problem areas. The next step is to develop a step-by-step plan for cleaning these areas. The final step is to execute the plan and clean these areas.
What is deep cleaning in housekeeping?
The term "deep cleaning" refers to the process of thoroughly cleaning a property as opposed to a simple clean. Regular cleaning of a property is not considered deep cleaning. The landlord or estate agent may require deep cleaning as a condition of tenancy or sale. Professional cleaners often carry out deep cleaning, which is more expensive than a regular clean.
Following are the 5 most asked questions about deep cleaning services.
How often do we need to do deep cleaning?
Deep cleaning extends the life of your home. Cleaning carpets regularly will extend their lifespan and improve their appearance. In order to maintain a healthy environment at home, you will need to remove dust, dirt, and bacteria.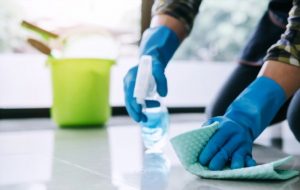 Knowing the frequency of cleaning completely depends on several factors such as the number of people living in the house, the amount of time spent at home, whether you cook every day, are there pets?
On the basis of some of these points, you might consider doing it once a week or every few days. Dust accumulates even when you're not home. Leaving laundry undone can cause unpleasant odors. Some areas should be cleaned every couple of days depending on how frequently they are used.
How long should a deep cleaning take?
An area of 1,000 square feet should take 1.5 hours to clean. So, cleaning a 3,000-square-foot home would take three hours. The amount of time required will obviously vary by the type of job, such as cleaning or vacant house cleaning.
Depending on how often you have decluttered before, it might take longer than one week up to fifteen days if you're doing it for the first time. In situations where the deep cleaning is done every six months, it will take approximately 3 to 4 working days. A first-time decluttering must involve only one room being cleaned for 2 or 3 days.
It completely depends on the condition and the area to be cleaned. We can choose the amount of time required to clean the house according to these and other factors.
Professional cleaners take on average 4–5 hours to clean a house with one bedroom, a living room, a bathroom, and a kitchen.
What are the benefits of deep cleaning?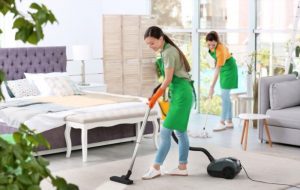 There are various benefits of deep cleaning which are as follows:
It kills viruses and bacteria.
It improves indoor air quality.
It provides positive mental health.
It makes your space clutter-free.
It cleans small out-of-reach areas of the house.
Cost-effective.
How much does deep cleaning cost?
There are a lot of factors when deciding the cost of Home cleaning services, which are as follows:
Area:
The cost of deep cleaning can be measured by the size of the facility per square foot.
Condition of Home: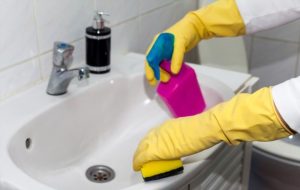 When home cleaning is considered, if the home is brand new it requires less manpower and less cost whereas if the home is used place the chances are it might have dirt and toxic mold, therefore the manpower requirement increases which directly affects the cost of deep cleaning.
Professional deep cleaning services:
Professional deep cleaning services first do the site survey and check the condition of the facility, area of the facility and according to size, they assign the manpower for the site. Sometimes the site requires machinery to clean a stubborn spot. By taking all this into consideration these services send quotations for cleaning.
What are the things to consider before hiring deep cleaning professionals?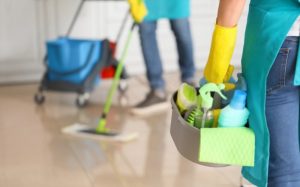 These days deep cleaning is the most searched service and due to its increasing demand, everyone who is thinking about hiring a cleaning service must be aware of the following points before hiring any professional services for their facility to get quality cleaning services. Following are the points to consider before hiring a cleaning service.
Client Satisfaction:
A service that builds a positive reputation values its customers. Find a business that has a strong commitment to customers, and prioritizes their needs in order to provide client satisfaction.
Cost-Effective:
Compare rates when searching for house cleaners. Sometimes services offer expensive rates because of the company's reputation and huge demand. Affordable services are typically offered by firms with adequate staff to handle high demand.
Skilled Staff:
Most professional services have a plethora of new cleaning staff but to provide hassle-free deep cleaning services the company needs to make sure that the cleaning staff is professionally trained.
Good Reputation:
If you want the best-in-class cleaning services, you must take client reviews into consideration because it makes things easy for you to choose a company with quality services. You can check google reviews to get an idea of their present working culture. A company with a good reputation always has positive reviews. Make sure you go through all the positive and negative reviews and come to the final conclusion. You can go for a referral but you must crosscheck first about the previous service experience of their clients.
Looking for a deep cleaning service?
Although cleaning is a daily task, people tend to ignore it. Keeping a tidy home is essential. Regular deep cleaning is a must. This ensures your family's safety and also gets rid of bacteria and germs that build up in your home.
SD Hospitality has been offering deep cleaning services for years. We look forward to providing the finest services to you. Our deep cleaning services are of the highest quality, and our prices are the most competitive. We can handle both residential and commercial cleaning needs. If you have any queries about our services, feel free to reach out to us. We'll be happy to provide you with a quote and schedule a time that's convenient for you.
Written By:
Subodh Tayde.